What's Happening in Lake Manassas Real Estate 2020
Posted by Carolyn Capalbo on Sunday, January 5, 2020 at 10:19 AM
By Carolyn Capalbo / January 5, 2020
Comment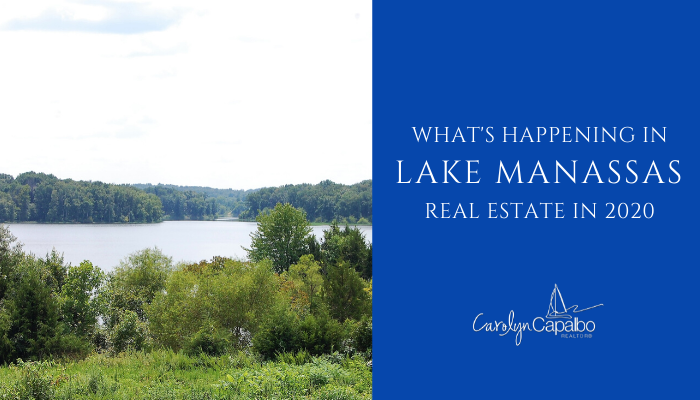 I think 2020 is going to be a strong year for home sales in Lake Manassas. Inventory is at historically low levels in the community. High-end competition with new construction at Dominion Valley is over. In the past, Lake Manassas lost many buyers to new construction options at Dominion Valley. With DVCC completely built out, I believe that home buyers will again turn their attention to Lake Manassas.
Lake Manassas offers many unique luxurious options that are not "cookie-cutter" in appearance. Lake Manassas homes are mostly four sides, brick, stone and Hardi Plank. Lake Manassas offers gated security and family-friendly amenities with a great clubhouse, and restaurant. Convenience to Wegmans is also a plus. Growth in the area will continue to foster strong demand for homes for sale in Lake Manassas. Recent major corporate relocation announcements; such as the corporate growth in Manassas fueled by players such as Amazon, Micron Technologies, Iron Mountain, and Cloud HQ, Microsoft in Leesburg, Nestle in Arlington, VW in Herndon, Bechtel in Herndon, Amazon in Herndon, and Amazon in Arlington and historically low unemployment will continue to push up demand for Lake Manassas homes. Lake Manassas continues to be centrally located for many commuting options that continue to expand. Public transportation and Park and Ride options continue to grow, making Lake Manassas a strong relocation option. Large and luxurious homes with fabulous views appeal to many step up and relocation home buyers.
As for homeowners considering selling their homes in Lake Manassas in 2020, buyer trends continue to favor homes that are in move-in ready condition. Upgrades and updates that today's buyer is looking for include, neutral paint colors, open floor plans, updated kitchens. Sellers that purchased in the early 2000s will want to consider updating their Tuscany and other bold colors to satisfy today's buyer. Mid toned and dark floors are still popular eclipsing the gunstock or honey-toned wood flooring. We are seeing a shift away from gray tones; however, they still have appeal, especially when toned with beige for greige. White kitchens comprised of 43% of the new construction home buyers selection options, so white is still popular. I am also seeing dark blue cabinets trending in addition to gray (which may be slowly losing appeal). Painting existing cabinets, if done professionally, is most definitely an option. Custom cabinetry is expensive but maybe a surprising value add. Inset cabinets with functional storage drawers are really popular and will pop a kitchen. Adding a professional grade set of appliances also will pop your home value up greatly as we currently see so few truly professional styled kitchens in Lake Manassas. These features will set the community and your home apart from other resort-style gated communities, such as Dominion Valley.
Please feel free to call me, (703) 477-6022, to discuss how to make the most of your resale options in Lake Manassas. You can also contact me via the form below.
Experience Matters When Choosing a Real Estate Agent.
The Capalbo Team is made up of experts and specialists in each phase of getting your home sold. From photography to online marketing, to transaction management and closing... They have built a team of the best professionals in Loudoun County, Prince William County, and the surrounding Northern Virginia real estate market.