Bristow Homes for Sale
?
Bristow homes for sale
are listed below. These real estate listings are updated constantly from the MLS
®
. Come back often to see the latest homes for sale. You can also get more information about
Bristow homes for sale here.
The Carolyn Capalbo Group are your REALTORS for Bristow Homes and Northern Virginia real estate, contact us with any questions or to view any of these Bristow homes . On each home listing you will see a "Request More Information" button. Click that button for disclosures, past sales history, dates and prices of homes recently sold nearby and more.
Bristow
September 17, 2021
More About Homes in Bristow
Bristow Homes and Real Estate (cont'd)
Bristow is one of our featured neighborhoods. Not only do we have a comprehensive and constantly updated list of properties for sale above, but we also can provide you with useful information about the area. Want to know what schools serve the Bristow area? We can help with that. Want to know how long homes typically take to sell in the area? We are happy to provide that as well. Virtually everything you need is right at your fingertips on this page or is yours simply by calling us and asking a question.
Let us find the lifestyle that fits YOU.
Our goal is for you to have all the information you need so that you can make the best real estate decision. What homes are available in the area? What are the commute times to Richmond area destinations if you area living here? We are happy to help you get the answers to ALL of these questions.
Bristow Real Estate Information
Located near Manassas, Gainesville, and Nokesville, Bristow Virginia has become a great place to live filled with family friendly amenity rich communities. Bristow is rich in Civil War history. Once the Linton family plantation, the land was donated to the Catholic Church to establish schools for poor boys and girls. The Linton Hall School is still in existence; however, much of the land has been sold off to developers and developed into communities such as Braemar, Villages of Saybrooke, and Victory Lakes. There is a Battlefield park adjacent to New Bristow Village that remembers the Civil War battle of Bristoe Station. Bristow has been spelled or misspelled several ways over the years.
Commuters looking for access to Washington DC love Bristow. The Broad Run Station for the VRE (Virginia Rail Express) is located in Bristow and offers daily service to Washington DC. Shopping, dining and entertainment options are amazing in Bristow. Jiffy Lube Live is a fabulous outdoor concert venue that brings top notch headliners to Prince William County and the Washington DC Metroplex. Shopping centers dot the Bristow area and offer gourmet grocery shopping at Harris Teeter. Tony's NY Pizza has a shop in Bristow and if you like Donuts, there is a Duck Donut shop in Bristow too.
My favorite Bristow communities offer swimming pools, tot lots, and walking trails. Braemar offers a wide range of single family home options to include carriage styled homes as well as luxury homes. Braemar also has a wide range of townhouses and condominium homes. New Bristow Village has roads named after Civil War heros and heroines. There are large single family homes and spacious townhouses available. Victory Lakes which is also known as Pembrooke has a large offering of townhouses, single family houses, and family friendly amenities. Sheffield Manor, and Kingsbrooke also offer great options for families looking to live in this great community!
Thinking about upgrading your home?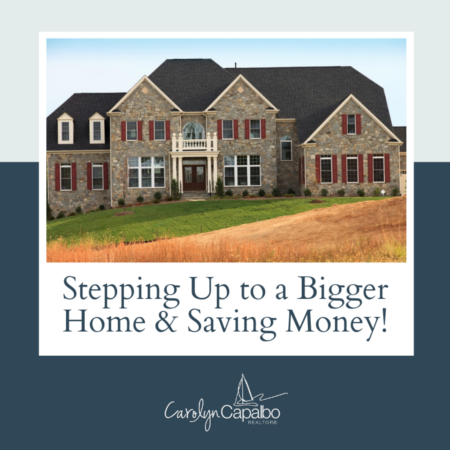 Stepping Up to a Bigger Home and Saving Money!
Years of steady property value appreciation, coupled with historically low-interest rates may make it possible to step up to a larger home and lower your monthly ...
Read More