Gainesville Homes for Sale
Gainesville homes for sale are listed below. These real estate listings are updated constantly from the MLS®. Come back often to see the latest homes for sale. You can also get more information about Gainesville homes for sale here.
The Capalbo Group are your REALTORS for Gainesville Homes and Northern Virginia real estate, contact us with any questions or to view any of these Gainesville homes. On each home listing, you will see a "Request More Information" button. Click that button for disclosures, past sales history, dates and prices of homes recently sold nearby, and more.
You can register for a free account to receive email alerts whenever new homes come on the Gainesville real estate market or you can contact us directly and we will help find the perfect home for you.
More About Homes in Gainesville
Gainesville Homes and Real Estate (cont'd)
Gainesville is one of our featured neighborhoods. Not only do we have a comprehensive and constantly updated list of properties for sale above, but we also can provide you with useful information about the area. Want to know what schools serve the Gainesville area? We can help with that. Want to know how long homes typically take to sell in the area? We are happy to provide that as well. Virtually everything you need is right at your fingertips on this page or is yours simply by calling us and asking a question.
Let us find the lifestyle that fits YOU.
Our goal is for you to have all the information you need so that you can make the best real estate decision. What homes are available in the area? What are the commute times to Richmond area destinations if you area living here? We are happy to help you get the answers to ALL of these questions.
Gainesville Real Estate Information
Over the past decade, the growth in Gainesville Virginia has been phenomenal. I personally live in Gainesville and have witnessed this growth first hand. Gainesville is no longer an exit off of I66 on the way to Charlottesville Virginia. Gainesville is booming. New shopping opportunities, and dining adventures are available at the Virginia Gateway Center. National retail stores, such as Black and White Market, Chicos, J Crew, and Joseph A Bank, DSW Shoes, Target, and Great Gatherings have invested in Gainesville as the population explodes. There is a new IMAX Cinema and numerous great restaurants, such as Firebirds, Uncle Julios, BJ's Brewhouse, Trummers Coffee & Wine Bar, Out of the Blue, and Bar Louie. Gainesville also boasts a Wegman's Supermarket (my favorite place to shop). All this growth correlates to the housing expansion and the development of several resort styled amenity rich planned unit communities. Communities such as Lake Manassas, Wentworth Green, Piedmont, Parks at Piedmont, Virginia Oaks, Broad Run Oaks, Morris Farm, Madison Crescent, Piedmont South, Heritage Hunt, Hopewells Landing, Heathcoat Commons, Glenkirk Estates, Saranac (Camp Glenkirk), and Regency at Creekside.
Fun history fact, Gainesville Virginia was once a stagecoach horse changing station for riders on the Fauquier and Alexandria Turnpike. Gainesville was also a cattle shipping point and a strategic Civil War location abutting the Manassas Battlefield. The recent growth has also expanded the road system to create the bypass over the railroad crossing in Gainesville on Route 29. This railroad crossing would constantly tie up traffic along Route 29 and the new interchange is very welcome.
Gainesville Virginia is also a great destination for Resort Active Adult Living. Regency at Creekside and Heritage Hunt are both amenity rich active adult resort communities. In addition to the 55+ active adult communities, many of the resort communities offer main level master suites to accommodate those active adult families that prefer to live in a more traditional community. Call me to ask me my personal opinion as a long time Gainesville Virginia resident!
Thinking about upgrading your home?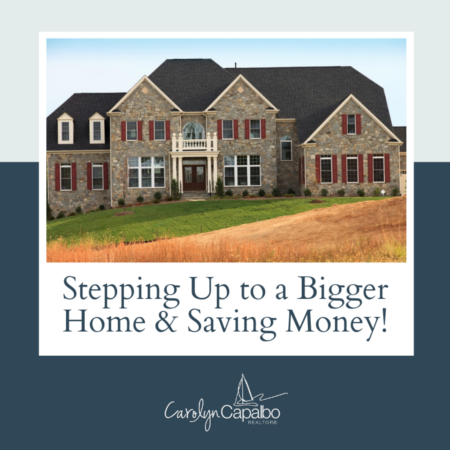 Stepping Up to a Bigger Home and Saving Money!
Years of steady property value appreciation, coupled with historically low-interest rates may make it possible to step up to a larger home and lower your monthly ...
Read More
Experience Matters When Choosing a Real Estate Agent.
The Capalbo Team is made up of experts and specialists in each phase of getting your home sold. From photography to online marketing, to transaction management and closing... They have built a team of the best professionals in Loudoun County, Prince William County, and the surrounding Northern Virginia real estate market.
Gainesville Neighborhoods